Home

Opera Gazet - A great website for opera lovers


Opera Gazet – A great website for opera lovers
OPERA GAZET a website with opera reviews
Flamand Olivier is a reviewer for Opera Gazet
Here is an example of his reviews: Nabucco, Zürich 2019
Flamand says: *This is not only one of the oldest opera review website in Europe – it is also one of the best. It covers all important and significant new opera stagings throughout Europe. It is a MUST website for the opera enthusiast ! "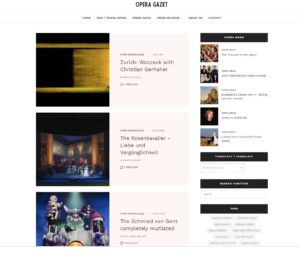 "It's all-in the music," said Maria Callas. We're talking about the art form called "opera". La Divina's words seem more than logical at first sight. Unfortunately, over the last 50 years, the art form of opera has drifted slowly away from this principle, to the annoyance and sadness of many opera lovers.
Opera lovers come in many shapes and sizes. From the occasional visitor who goes to an opera house two or three times a year to the opera fanatic who can't live a day without opera: he visits performances in his hometown and abroad and plays one opera video or CD after another at home.
Then there is the special category of the opera fanatics. They start an opera website. And that is exactly what happened in 1999, when the website Opera Gazet came into the air. Setting up a website in 1999, when the internet was not yet part of our daily life, was a rather complicated undertaking. Yet, the opera lover and opera connoisseur from Antwerp, Guillaume Maijeur, accomplished this mission.

Opera Gazet was born, and, with a small team of employees, reviews, articles and interviews were put online. At that time, it was a Belgian website, ww.operagazet.be, which was growing in popularity every year.


For more than 20 years (!) Maijeur was in charge. In 2019 the Dutch reviewer Olivier Keegel took charge of Opera Gazet. ".be" became ".com". The site was given a more contemporary look and more reviewers were recruited. At this moment the Gazet has reviewers in Belgium, the Netherlands, Germany, France, Italy, Austria, Switzerland and Russia. The people from Opera Gazet are welcome guests in all major opera houses in Europe.
Although Opera Gazet counts birds of various plumes among its reviewers, its editorial line is aimed at respecting composer and librettist. In principle, the so-called Regietheater, in which the director has primacy, is not preferred. Although some modern directors manage to get to the heart of an opera, taking opera out of its historical context is often a precarious undertaking which is debatable. The discrepancies between text and stage image are often excessive. When it is not the composer, not the opera, but the director who is in the center this will cause much displeasure to many opera lovers. The Facebook page "Against Modern Opera Productions" has 69,000 followers. That is telling us something.
Juilliard's Director of Opera Studies, Stephen Wadsworth, put it this way:
"It's not our job to repaint paintings. We should only be concerned with: Where should we hang them? How to light them? How do we present them to the public in such a way that the public can appreciate what the artwork essentially is?"
Diversity is also a great asset at Opera Gazet.
There is one exception. In Opera Gazet, one will not easily find positive reviews of productions in which the libretto is substantially altered by a dominating director.
Opera Gazet is currently growing boisterously; not only is it one of the oldest opera sites in Europe, if not the oldest, it also publishes reviews the most frequently. Visitors of the site grow by hundreds a month. At the moment there are about 12.000 unique visitors per month.
Apparently many people agree with Callas: "It's all-in the music."
www.operagazet.com
(Visited 1149 times, 1 visits today)