Home

Verona - A tale of Romeo and Julia and the two Annas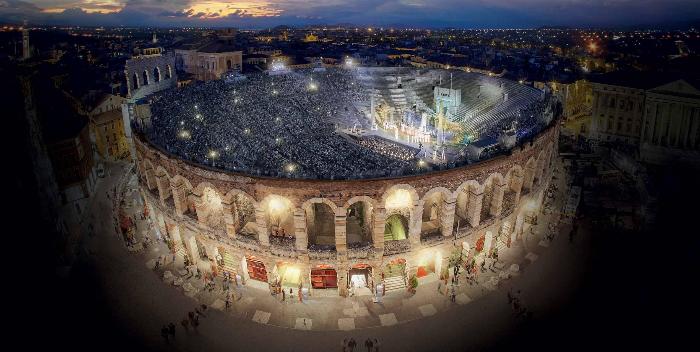 Verona – A tale of Romeo and Julia and the two Annas
Verona – A tale of Romeo and Julia and the two Annas (July 2019)
Verona is mainly known for two things: Romeo and Julia and Opera in the Arena of Verona.
I went to Verona for the latter: Il Trovatore and Aida in the Arena. Reviews of these later.
Arriving in Verona I was struck by the heat. During the day it was impossible to walk the town.
Nevertheless I made it to the house of Julia which is one of the major tourist attractions in Verona.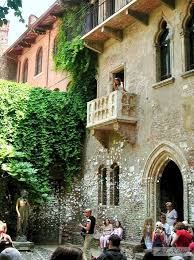 Actually not much to see. A balcony which I wonder how Romeo ever could climb up to. The walls are full of wishes and small letters to Julia. Do people really believe in this or is it just for fun. By the way Julia never lived in this house. It is just a story like Rigolettos house in Mantua is a fake.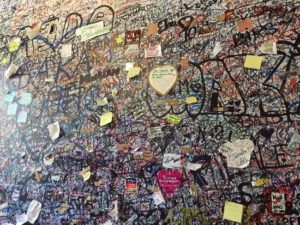 But thanks to Shakespeare's drama we got at least two great operas by Bellini and Gounod and one great ballet by Prokofiev.
The other big attraction in Verona is the Roman Amphitheatre commonly called the Arena. It is the second largest preserved amphitheatre in the world ( the Coliseum in Rome is the largest). It was built 30 AD. Thus it is older than the Coliseum. The well preserved inner ring seats almost 22000 people.
For the opera performances there are seats in the lower part of the arena. In the upper part there is unnumbered seating on the stone steps at lower prices. People are queuing early to get the best seats. The entrance opens two and a half hour before a performance which should be a world record as far as I know.
The atmosphere in the Arena is unique with visitors from many countries. In particular Germans love to combine their Italian vacation with an opera performance here.
With such a big open space and a huge stage everything becomes special here: acoustics and staging for example. Verona is famous for its grand and colossal mass scenes often involving animals on stage. The most famous and most performed opera in the Arena is Aida.
So lets have a look how my two performances went:
A Star Shines Brightly in the Arena (July 4, 2019)
The Arena in Verona is a special place for Opera. And it has been so for over 100 years. All big stars of their time have sung here. From Callas and Corelli to Caballé and Domingo. Now it was time for Anna Netrebko to make her debut in the Arena. The first night was on June 29th. This was the second performance in a series of three.
Zeffirelli's Staging
If you like traditional staging and hate modern directors who burden you with crap, then Zefirelli's Trovatore is for you. It was staged first time 2001 and matured well. Zefirelli recently died. This performance is also in honour of him.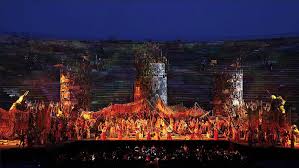 The stage is dominated by three huge towers. The one in the middle opens up spectacularly in the convent scene to reveal a brightly illuminated golden chapel. Otherwise there is plenty of war gear on stage. The gipsy scene is transformed by brightly coloured drapery. The staging is best when huge crowds (chorus and ballet) are on stage. Otherwise the principles seem quite lost in huge empty spaces. In the convent scene Leonora and Manrico mount two horses and Anna and Yusif even sing sitting on the horses. When they leave the stage on horseback the Arena crowd exploded in a spontaneous applause not even waiting for the music to finish.
The big chorus scenes are spectacular and very impressive. In act three the seldom played ballet was performed after the soldier chorus which the audience appreciated a lot.
The costumes are straight forward. Soldiers and gypsies – dark and colourful. The lightening was dark when appropriate and exploded into spectacular coloured mass scenes in the gypsy camp and convent scene. Di quella pira was lighted adequately with the flames in the background.
The Star
There was only one star in this Trovatore – Anna Netrebko.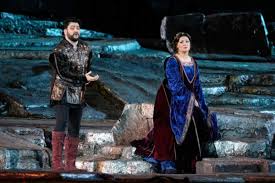 Her voice had darkened a little bit more in the lower register since I heard her last in Baden-Baden in a Verdi concert. The top has become even more beautiful. Her singing was exceptional both in the lyrical parts as well as in the dramatic ones. Her Tacea la notte placida was extremely beautiful. But the D'amor sull'ali rosee was even exceptional with a sublime cadenza at the end. The audience gave her an enthusiastic ovation for it – the biggest and longest of the evening. Anna filled the Arena with her singing, interpretation and acting. She rose above everyone else in the cast.
Memorable!!
Yusif  Eyvazov as Manrico showed what an experienced and professional tenor he is. The proof of which was heard in Ah sì, ben mio and Di quella pira which he delivered with great fervour. Unfortunately he is not endowed with a beautiful voice or an exciting timbre. This makes it difficult for many people to love his performance. Still he was a very good Manrico and I think he gets better every time I hear him.
Luca Salsi has a beautiful baritone which he made lot of use of as Count Luna. Il balen was very slow and almost got him into trouble once or twice. Strangely his overall performance left me cold. What a fine singing but dull Count Luna.
Dolores Zajick made Acuzena her own role over 20 years ago. This evening one could still hear what an expert mezzo she is. But age takes its toll and there was often just not enough power to fill the Arena. Sometimes I could barely hear her.
Riccardo Fassi as Ferrando sang impressively with beautiful timbre and great agility.
The chorus was very reliable and performed impressively in the big chorus scenes.
The orchestra under the baton of Riccardo Fassi was very subdued. This is partially due to the acoustics in the Arena which favors the singers. But knowing this Morandi could have applied more dynamics and fervour.
This was a very enjoyable performance with a superb Anna Netrebko.

AIDA with a great Anna (July 5, 2019)
The age of opera began at the Arena of Verona over 100 years ago in 1913. It was a performance of Aida which marked that historic event. Ever since the opera has dominated the Arena with Aida being the most played (630 times). It is the most popular opera there.
Gianfranco de Bosio was inspired by the original staging of 1913 and recreated the sets with some updates in 1983. In 2019 it has started to show its age.
The monumental style suggested by the Aida story fits well into the Arena with its huge spaces. It has everything Egyptian you would expect: obelisks, sphinxes, monumental columns and huge statues of various gods. The costumes are fantasy Egyptian with white color dominating and some red and gold. There are the expected mass scenes and ballets.
In this staging everything was predictable – no negative surprises nor any positive ones. The triumphal march had everything you would expect including horses and dancers. I have seen and heard more exciting triumphal marches.
The choreography by Susanna Egri seems not to have been updated. It looked quite traditional and old-fashioned. The lightning by Paolo Mazzon is straight-forward without special effects
Average Singing
Giorgio Giuseppini as Ramfis and Romano Dal Zovo as the King sang nicely. Ramfis started a little bit wobbly but settled soon into a steady performance.
Anna Maria Chiuri's singing as Amneris was variable. Sometimes she sounded very beautiful and acted accordingly but as a whole she did not have enough power for the dramatic outbursts.
Sebastian Catana as Amonasro did not make a big impression. He did not succeed very well in the lyrical passages and in more dramatic moments he often barked.
The Radames sung by Murat Karahan was strange. He made a nice stab at "Celeste Aida" but ended it with a screamed last note. And he held that ugly sound too long. Thereafter he was very bleak most of the opera. In the final scene he made a good effort to sing beautifully and he actually succeeded partially. Overall he was not up to the standard you would expect for the Arena of Verona.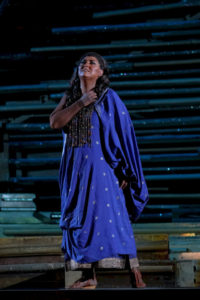 Great Aida
Aida was sung by Anna Pirozzi. She is a very experienced singer and classifies herself on her website as a dramatic coloratura soprano. There is not much coloratura in Aida, but she sang the lyrical parts very beautifully. The dramatic parts were fine too.
I know one should not compare singers when they perform in different circumstances. I recently heard Anna Netrebko sing the Nile aria in a concert. Pirozzi's performance of the aria was impressive but Netrebko's was exceptional. The difference you experience between four stars and five stars-de-luxe. Pirozzi's overall performance and acting as Aida was great, but maybe not great enough in comparison with the amazing Trovatore we experienced the previous evening.
The orchestra conducted by Francesco Ivan Ciampa was very good overall. Only in the triumphal march would I have liked a little more fervor and dynamics.
This evening was a mixed experience. I had the feeling of attending a dull routine performance with some average singers. Only Anna Pirozzi brought excitement into an otherwise average evening
.
(Visited 766 times, 1 visits today)