Home

The great old man of opera returns - Placido Domingo - A review of Nabucco Zürich, October 13, 2019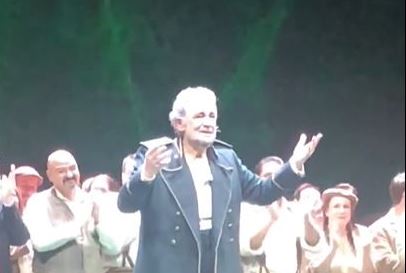 The great old man of opera returns – Placido Domingo – A review of Nabucco Zürich, October 13, 2019
Nabucco, opera by Giuseppe Verdi to an Italian libretto by Temistocle Solera. First performed at the Teatro alla Scala in Milan on 9 March 1842. Premiere of this production at the Opernhaus Zürich on 23 June 2019.
Nabucco: Placido Domingo
Ismaele: Otar  Jorjikia
Zaccaria: Vitalij Kowaljow
Abigaille: Oksana Dyka
Fenena: Veronica Simeoni
High Priest of Baal: Stanislav Vorobyov
Abdallo: Leonardo Sanchez
Anna: Ania Jeruc
Philharmonia Zürich
Chor  und Zusatzchor des Opernhauses Zürich
Conductor: Fabio Luisi
Staging:  Andreas Homoki
I attended the premiere of this Nabucco on June 23, 2019 and reviewed it then.
There was one single reason for revisiting this Nabucco: the return of Placido Domingo to the European stage after his troubles in the USA. Expectations ran high and everybody was there to see how the maestro was going to do.
The cast of the performance was entirely different from the June performance with the exception of Veronica Simeoni and of course Fabio Luisi in the pit.
The minimalistic staging had the huge green marble slab moving around the whole performance, the chorus dashed around the stage too and performed curious routines. The green Sissi-like costumes hinted that this was the time of the Risorgimento. Visually it was a bit boring. But I have seen much worse from Homoki.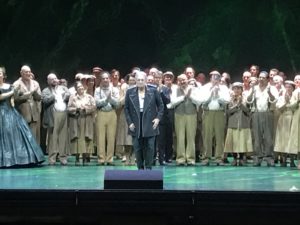 In the center of the opera Nabucco is the king. And that was Placido Domingo. I was surprised about the vocal force he mustered right from the start. This is amazing considering his age. And as the evening progressed he took every opportunity to show what a great singer actor he still is. His Oh! mia figlia and Deh perdona were extremely touching and even beautiful. Well yes, he is no baritone, but he is Domingo!
The ovations he received were huge and without any reservations. He even got two big hugs from the soprano.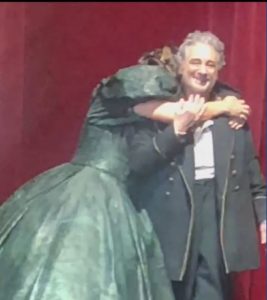 The rest of the cast was very good too. I have some ambivalent feelings about the Abigaille of Oksana Dyka. The steel top notes were there and she played the bitch to perfection. But her lower register was not very present. There were some ugly tones which fitted the role. Zaccaria was sung splendidly by Vitaij Kowaljow with an expressive grainy bass. Veronica Simeoni did her best with the unthankful role of Fenena and sang her aria beautifully. The tenor of Otar Jorjikia did not make any impression at all.
Fabio Luisi, the orchestra and the chorus repeated their excellent performance.
Overall a very enjoyable and musically impressive Nabucco dominated by the maestro – the great old man of opera – Placido Domingo (forever….?).
(Visited 1307 times, 1 visits today)