Home

Placido Domingo at 80 - A personal appreciation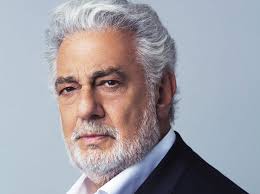 Placido Domingo at 80 – A personal appreciation
My relationship with Placido Domingo is special: We are almost of the same age. And Placido is the singer which I have seen and heard  in the theater most of all tenors.
I became aware of Placido in 1971 when I purchased the LPs with his Don Carlo (Giulini; Caballe, Verrett, Milnes, Raimondi)
This tenor voice was unbelievable !
After this I definitely knew who Placido Domingo was. I read about him, followed his career and collected all his LPs.
But it took until 1975 to see and hear him live in the opera house.
That was in Un ballo in maschera at Covent Garden London with Katia Ricciarelli, Piero Cappuccilli and Claudio Abbado conducting.
Un ballo in maschera London 1975 Ricciarelli Cappuccilli Domingo
An unforgettable performance! Also available on DVD.
After this first performance I took every opportunity to see Placido live.
Most of these performances were in London, Vienna or at the Met.
There are too many to list all of them here but let me mention a few special experiences.
La Gioconda 1982 at the Met (with Marton, Baglioni, MacNeil) is a special memory because it was during a snow storm in New York and the house was not even half full. Placido congratulated all present "You made it through the snow storm" . There is no recording of this performance, but a Gioconda from Vienna is available on DVD (I attended that one too)
La Gioconda Wiener Staatsoper 1986 Domingo Marton Lilowa Rydl
Otello is one of Placido's signature roles which I attended several times.
I remember one performance in London (Kleiber; Price, Carroli)
In these days it was quite difficult to get tickets especially for a hit like this Otello.
One had to queue for tickets and often did not succeed. Which happened to me this time.
So I had to join the crowd of ardent Placido fans outside ROH trying to get a ticket from someone.
But I had little luck. Three minutes before the start of the performance I stood suddenly in front of an old lady who looked lost.
I asked her if there was a problem. Yes, she said "my friend is ill and could not come. I have a ticket here and do not know what to do with it" Well, I knew. Victory! and one more unforgettable performance.
There is only a CD available of this performance 
Here an Otello from the Met
I remember the Andrea Chenier in Vienna 1981 because firstly I invited my aging father to it. He had never heard Placido before and after the performance he was a Placido fan. And secondly, I bumped into Placido outside the Staatsoper. At the time he was doing the Traviata movie with Zefirelli and I almost did not recognize him. He had slimmed enormously and got wrinkles in his face. And his hair was dyed light brown. Luckily he did recover from it quickly.
If there is something as the best performance, for me it was Les Contes d'Hoffmann in London 1981
Placido's voice that day was unbelievable beautiful even by his standards – out of this world!
Available on DVD – but does not do justice to reality.
I could go on with many more performances and anecdotes, but let me finish with my reflection on Placido's later years.
In the early 2000s there were some performances where Placido was not up to his high standards.
His decision to move to the baritone repertoire has been controversial ever since.
There are many people who say "He is not a baritone". Absolutely right, HE IS DOMINGO!
So when you watch one of his "baritone" performance you have to forget what you are used too (Cappuccilli, Bruson …)
and enjoy a highly musical, dramatic performance.
I reviewed his Nabucco in Zürich, October 2019 and enjoyed it very much.
The great old man of opera returns – Placido Domingo – A review of Nabucco Zürich, October 13, 2019
NOW 80 and STILL GOING STRONG !
(Visited 810 times, 1 visits today)