Home

Massenet Manon Zürich Opera April 7, 2019 - A Review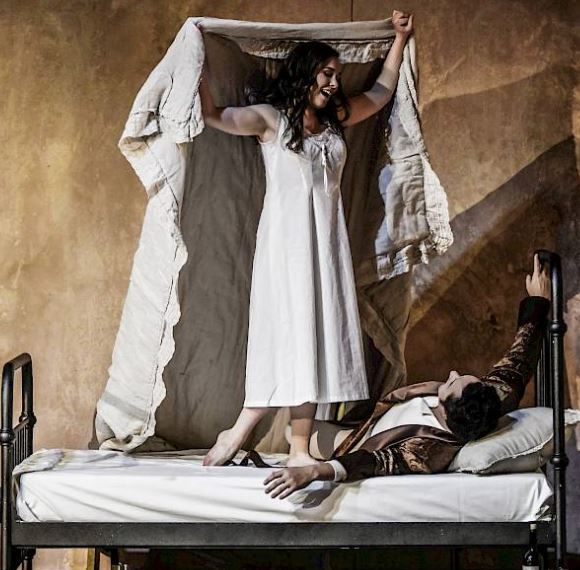 Massenet Manon Zürich Opera April 7, 2019 – A Review
This review was published by Opera Gazet on April 8. 2019
Fotos (Foto: T+T Fotografie Toni Suter)
Manon, opéra in five acts by Jules Massenet to a French libretto by Henri Meilhac and Philippe Gille, based on the 1731 novel L'histoire du chevalier des Grieux et de Manon Lescaut by the Abbé Prévost. It was first performed at the Opéra-Comique in Paris on 19 January 1884. Première in the Zürich Opera House on 7 April 2019.
When Abbé Prevost's L'Histoire du chevalier des Grieux et de Manon Lescaut was published in 1731 it was a scandal. The book was forbidden in France but became a huge success anyway. At the time of the premiere of Massenet's opera in 1884, Manon was still frivolous and scandalous. But what does Manon mean to us today, when society and morals have changed so much? Well, today we would say "let the girl have some fun". And she would become an It.girl, be famous on Facebook and make a lot of money as an influencer.
I think the director Floris Visser realized that and resisted the temptation of situating the story in the present. He did move it, but only to the Belle Epoque of Massenet's time, when the prevalent morals and society could still give meaning to the Histoire de Manon.
Floris Visser renders a fairly traditional staging at the Zürich Opera. He tells the story as intended by Massenet. The only faux pas is a naked Madonna/Manon double at the end of the St. Sulpice scene. Visser's direction is very detailed and impressive. The story flows continuously, all characters are drawn exquisitely and he pays great attention to detail.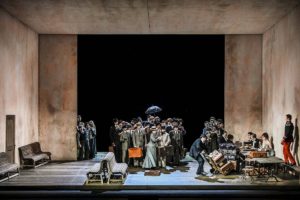 The stage is set as a sort of peepshow box. It is completely enclosed and only open to the auditorium. This makes us feel like voyeurs having a peep at the scandalous Manon. The stage changes only when different props are added. The back opens with huge sliding doors to expand the scene when necessary. The back then becomes a huge mirror.
The scenery and the costumes are designed by Dieuweke von Reij, another member of this successful Dutch creative team. The costumes are appropriate for the staging.
All singers of the ensemble except Piotr Beczala are debuting in their roles. The ensemble as a whole performs with great conviction and without insecurity.
Lescaut is portrayed by Yuriy Yurchuk, who is very experienced playing supporting roles, mainly at Covent Garden. And minor supporting roles is what he should continue doing. His acting is good though sometimes over the top. But what he completely lacks is vocal characterization. How that should be done in a supporting role is something he could learn from the stalwart Alistair Miles, who sings le Comte des Grieux with great success. Even Mark Scoffoni as de Bretigny shows more vocal individuality although his acting is very dull.
Now for the principals:
Piotr Beczala is almost an institution at Zürich Opera where he made his debut over 20 years ago. Indeed, he sings here so frequently that he feels at home in Zürich. He even took Swiss citizenship in 2012. His debut as Des Grieux goes back to 2012 at the Met.
His voice and character are ideal for Des Grieux. He is very believable as the romantic and weak idealist. His "Ah! fuyez, douce image" in St. Sulpice is extremely beautiful and very touching at the same time. The only wish I have is that he would temper his often loud volume and show a bit more variation.
Which brings us to Manon. There was a great deal of expectation regarding Elsa Dreisig's debut. She was an Operalia winner in 2016. She is a permanent member of the ensemble of the Berlin Staatsoper, where she has sung Pamina, Euridice and Traviata among others. She has been labeled as a young singer (28 years) on the rise to stardom. I was especially curious as I had never heard her perform before.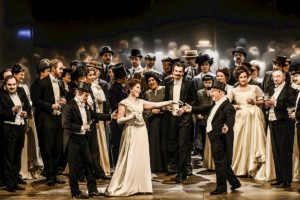 Miss Dreisig has a rather small voice with a very beautiful timbre in the middle and higher range. This makes her very believable as the 16-year-old Manon in the first act. But the first duet with Des Grieux already raises questions about her voice's suitability. This is put to a severe test in Manon's two key scenes. First is her big scene at the Cours-la-Rein ewhere she is supposed to dominate the scene and the crowd with her charms and sexuality. Miss Dreisig comes nowhere near doing so: neither her characterization nor her voice is up to the task. The second test is the St. Sulpice duet. She starts "n'est-ce plus ma main" quietly, which is extremely beautiful and very touching. But then she lifts her voice to a louder volume for more dramatic effect. This sounds forced and unnatural.
At no point during this opera is Miss Dreisig a femme fatale. Only her 16-year-old girl is believable. Although she does a very nice and professional job with this role I think she was ill-advised to attempt Manon at this point in her career. But I would love to hear her as Pamina.
Marco Armiliato in the pit is his usual highly professional self. He conducts with great aplomb and romanticism without providing any deep new insights.
I thoroughly enjoyed this evening which had so many positive sides even though I missed Manon and got Pamina instead
.
(Visited 706 times, 1 visits today)