Home

La Cenerentola with Cecilia Bartoli in Zürich Dec 31, 2019 - a review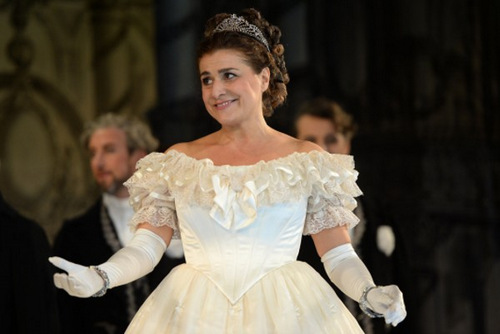 La Cenerentola with Cecilia Bartoli in Zürich Dec 31, 2019 – a review
La Cenerentola by Gioachino Rossini
Opernhaus Zürich performance of Decemeber 31, 2019
Angelina La Cenerentola Cecilia Bartoli
Don Ramiro Javier Camarena
Dandini Oliver Widmer
Don Magnifico Alessandro Corbelli
Tisbe Lileana Nikiteanu
Clorinda Martina Jankova
Alidoro Stanislav Vorobyov
There is no recording of this performance. You can view other recording excerpts with Bartoli here.
Or watch her superb Non piu mesta here.
For over 20 years it has been a tradition for me to visit the Zürich opera on the last day of the year (Silvester). And it has been a tradition for Cecilia Bartoli to be the star of many of these performances. She starred in Le comte Ory, Semele and several times in La Cenerentola.
The staging by Cesare Lieva of this Cenerentola dates to 1994. It updates the story to more modern but unspecific time. The chorus looks to be inspired by Magritte and the set seems to be Jugendstil. But it is very true to the Cinderella story and I rather like it now that I have seen it several times. It is very funny and sometimes ironic.
The star of the performance is of course Cecilia Bartoli. It is amazing that she is still able to portray the young girl Angelina very believable after almost 30 years with the role. She really enjoys the acting and spreads a lot of  positive feelings. Her singing is superb as usual. Her Una volta c'era un re is extremely touching. Her many coloraturas blow your mind. The final highlight is Non piu mesta sung with great beauty and launching exhiliarating pyrotechnics which match the fireworks to come later that night. Unforgettable.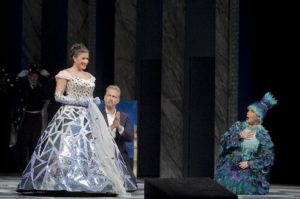 She is partnered by two other stars and her husband.
Javier Camarena has sung with Bartoli in Cenerentola in many performances in Zurich before. His voice and art has grown steadily over the years and he has become a star tenor the world over. He sings with great beauty and fantastic technique. His acting is very good too.
Alessandro Corbelli has made Don Magnifico one of his signature roles in all opera houses of the world. It is almost unbelievable that this was his house debut in Zürich. Corbelli is one of the leading opera buffos of today (Don Pasquale, Gianni Schicchi and many more). His acting is superb and very funny. His singing matches it. His patter song is unbelievable.
Oliver Widmer (Bartoli's husband) as the valet Dandini is very good too. His acting is fitting for the role and appropriately funny. His baritone handles the coloraturas nicely.
The sisters sung by Liliana Nikiteanu and Martina Jankova are very funny and enjoyable.
Stanislav Vorobyov (role debut) as the tutor Alidoro (the male Fairy Mother) streams beautiful sound with his soft bass voice.
The orchestra La Scintilla conducted by Gianluca Capuano has long experience with this music. But this time I was missing some of the esprit and funny sparkle in the playing.
This was a superb evening with a great cast: Two great stars as the pair of lovers and a magnificent buffo. An appropriate end of 2019.
(Visited 1,697 times, 1 visits today)