Home

Il Trovatore Zurich October 24, 2021 Beczala Rebeka Kelsey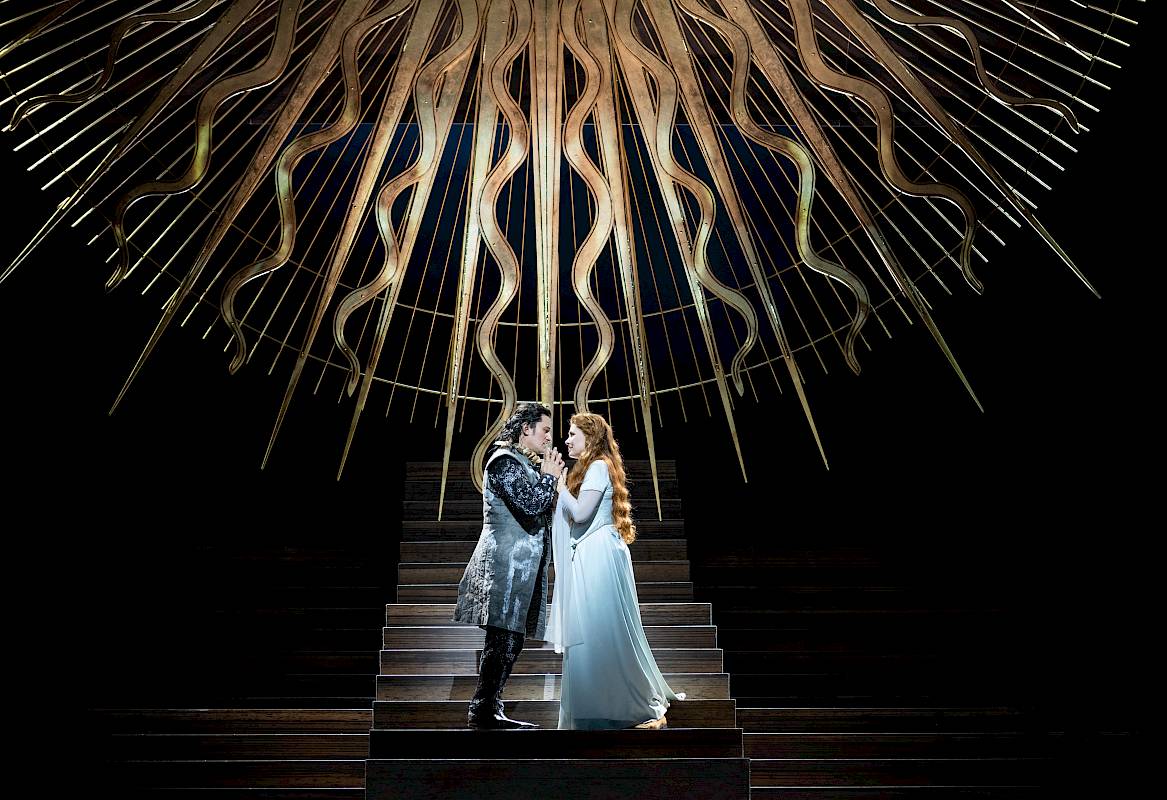 Il Trovatore Zurich October 24, 2021 Beczala Rebeka Kelsey
IL TROVATORE by Giuseppe Verdi
Opernhaus Zürich, October 24, 2021
Luna Quinn Kelsey
Leonora Marina Rebeka
Azucena Agnieszka Rehlis
Manrico Piotr Beczała
Ferrando Robert Pomakov
Ines Bożena Bujnicka
Ruiz Omer Kobiljak
Conductor Gianandrea Noseda
Director Adele Thomas Stage and Costume Design Annemarie Woods Lighting Design Franck Evin Chorus Master Janko Kastelic Choreography Emma Woods
This performance was the first of the new Zurich opera music director Gianandrea Noseda.
And it was musically very good.
But it left me confused about what was going on (or often not going on) on stage.
The creative team was British with some credit from among others the Royal Opera.
But what was the idea behind this odd hotchpotch of staging?
The stage was the same throughout the opera dominated by a huge staircase. Nothing else, almost no props to indicate a location. To start with there was a painted curtain with the face of some monster – why?
Throughout the opera some creatures with horned helmets were creeping around (dancing?) – who were they supposed to be?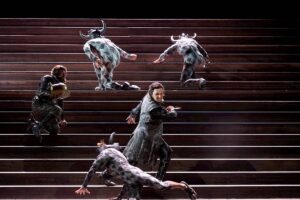 Many costumes were straightforward Middle Age. But Luna had a ridiculous pink suit with a large red heart on his chest. And the gypsies looked more like a bunch of prison inmates.

Leonora and Manrico acted quite static. Luna and in particular Azucena were much better.
There were frequent funny routines by the chorus which seemed odd in such a tragedy. And when in the end Manrico was decapitated on stage and Leonora dead from poison, the chorus had a big laugh! What was so funny?
The one idea of the staging I understood was the theme "mi vendica". Azucena's mother's cry for vengeance was written above the stage. And the staging centered very much on Azucena.
Musically things were very much better.
Gianandrea Noseda led the Philharmonia Zürich with great success, playing with huge dynamics, and great emotion.
The chorus sang very well too. But sometimes not too subtle.
The Canadian Robert Pomakov has the right bass voice for Ferrando, perhaps a little bit unsteady occasionally. But overall very well sung.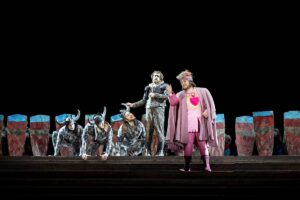 This is the first time I heard Quinn Kelsey live. He is an excellent singer-actor.
He used all the shades and dynamics of his voice to paint emotions. He even began "Il balen" pianissimo.
And his acting was fine too. Pity about the pink costume.
An excellent Luna!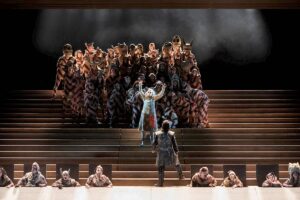 The central character of this staging is Azucena, very well sung and acted by Agnieszka Rehlis from Poland.
She has a very flexible mezzo voice. Alas no deep chest notes. But who says that Azucena always has to be sung with a chest voice? She dominated the stage every time she was on.
Maria Rebeka is a very fine soprano. There were some occasional slightly harsh sounds in the middle register. But in the high-lying cantilenas her voice really started to bloom. The cadenza of her second aria was a bit disappointing. In the fast staccatos she displayed phenomenal technique. She did not do much acting. But overall a very good Leonora.
Which brings us to the awaited debut of Piotr Beczala as Manrico. Beczala started his career as a Mozart tenor, then moved to a lyrical Italian tenor and further to Cavaradossi and Lohengrin  How would his essentially lyrical tenor fare with Manrico? To state it immediately: he did very well indeed,  as he always does with his beautiful voice. His Manrico is quite dull (directors fault?) and his singing is of course lyrical. Surprisingly the most lyrical part "Ah, si ben mio" was not too exceptional. He had a very nice stab at "Di quella pira" which was much better than one would have expected. But he almost missed one or two notes in it. Still I think, he should think twice before venturing any further, such as Calaf. Even Nicolai Gedda, who like Beczala did Lohengrin, Rigoletto's Duke, Cavaradossi, Manrico,  stopped there.
In summary an interesting evening with a very good musical performance.
(Visited 1,785 times, 1 visits today)