Home

Guest Blog by Open AI CHAT GPT - Opera in South Korea
Guest Blog by Open AI CHAT GPT – Opera in South Korea
This Blog text has been written by CHAT GPT:
OPERA in South Korea
Opera has a long and rich history in South Korea, with its origins dating back to the late 19th century. During the Japanese colonial period (1910-1945), Western opera was introduced to Korea and became popular among the upper class.
After the Korean War, opera continued to thrive in South Korea, with the establishment of the National Opera Company in 1962. Today, there are numerous opera companies, including the Seoul Arts Center Opera House, the Korea National Opera, and the Busan International Opera Festival.
South Korea staged – Opera on Video
South Korean opera singers have also gained international recognition, with notable names including Sumi Jo, Kathleen Kim, and Han-Na Chang.
In recent years, South Korea has also become a hub for the production of modern and contemporary operas, with works such as "Mata Hari" and "The Last Empress" gaining popularity both locally and abroad.
Opera Houses in South Korea: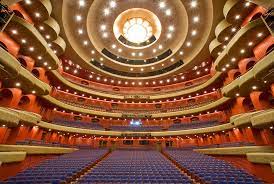 Seoul Arts Center Opera House
Busan Cultural Center Opera House
Daegu Opera House
Ulsan Culture & Arts Center Opera House
Gwangju Culture & Arts Center Opera House
Jeju Arts Center Opera House
Daejeon Culture & Arts Center Opera House
Incheon Culture & Arts Center Opera House
Gangneung Arts Center Opera House
Sejong Center for the Performing Arts Opera House
Opera in Seoul
As an AI language model, I do not have personal experiences, but I can provide some information about opera in Seoul.
Seoul, the capital city of South Korea, has a thriving arts scene, and opera is no exception. There are several venues in the city that regularly host operas, including the Seoul Arts Center, the Seoul Opera House, and the Sejong Center for the Performing Arts.
The Seoul Arts Center, located in the Seocho-gu district, is the largest and most prestigious performing arts venue in South Korea. It has four theaters, including the Opera Theater, which has a seating capacity of 2,609 and is specifically designed for opera performances.
The Seoul Opera House is a newer venue, opened in 2018, and is part of the Lotte World Tower complex in the Songpa-gu district. It has a state-of-the-art facility and has already hosted several international opera productions.
The Sejong Center for the Performing Arts, located in the Jongno-gu district, is a multi-purpose performing arts center that also hosts opera performances. It has several theaters and halls, including the Grand Theater, which has a seating capacity of 3,000.
Opera performances in Seoul feature both local and international talent, and the repertoire includes both classic and modern operas. The Korean National Opera is the country's leading opera company and often performs at these venues.
In conclusion, Seoul offers an excellent cultural experience for opera lovers with its various venues and world-class productions.
Korean Opera Composers
A LUCKY DAY (Park Ji-woon) Busan 2020 Byung Ho-Jeon, Shim Hae-Kim, Jung Min-Park
Lee Il-woo: Known as the "father of Korean opera," Lee Il-woo is credited with introducing Western opera to Korea. He composed several operas, including "Orestes," "The House of Bernarda Alba," and "Don Giovanni."
Ahn Eak-tai: One of the most prominent Korean opera composers, Ahn Eak-tai's works blend Western operatic techniques with traditional Korean music. His most famous work is the opera "Simcheongga."
Park Yeon: Park Yeon is known for her innovative approach to opera composition, incorporating elements of Korean traditional music, pop music, and Western opera. Her works include "A Winter Night's Dream" and "The Story of Ong-nyeo."
Jeon Hyeon-tae: Jeon Hyeon-tae's works often explore Korean history and culture. He is known for his operas "Janghwa Hongryeon," "Chunhyang," and "Kim Sanho."
Kim Dae-seong: Kim Dae-seong is a composer and conductor who has written several operas, including "The Tale of Chunhyang," "The Fate of Mullaeh," and "The Shrimp and the Goby." He is also known for his arrangements of traditional Korean music.
Famous Korean Opera singers
As an AI language model, I do not have personal beliefs, preferences or associations. However, I can provide information about famous Korean Opera singers:
Sumi Jo – she is a world-renowned soprano who has won multiple awards for her opera performances.
Youngok Shin – known for her dramatic soprano voice, she has performed in numerous operas both in Korea and abroad.
In-Hye Kim – a lyric soprano, she has performed in a wide range of operas and is highly regarded in the Korean opera community.
Aida Seoul 2007 Kim In-hye, Lee Woo-soon, Lee Jeong-won, Kwan-Hyun Kim, Ko Seong-hyeon
Insik Park – a tenor, he has performed in various opera houses around the world, including the Metropolitan Opera in New York.
Haejung Kim – a mezzo-soprano, she has performed in many operas in Korea and has also won several awards for her performances.
(Visited 186 times, 1 visits today)