Home

Die Tote Stadt Munich 2019 - Review
Die Tote Stadt Munich 2019 – Review
Die Tote Stadt – A great psychothriller – but no city
Performance on November 26, 2019 Bayerische Staatsoper Munich
This review was also published on OperaGazet
Here is a video (excerpt, documentary, interview) about the performance
Paul                     Jonas Kaufmann
Marietta/Marie    Marlis Petersen
Frank/Fritz           Andrzej Filonczyk
Brigitta                 Jennifer Johnston
Juliette                 Mirjam Mesak
Lucienne              Corinna Scheurle
Gaston/Victorin Manuel Günther
Graf Albert          Dean Power
Conductor            Kirill Petrenko
Director                Simon Stone
Stage                     Ralph Myers
Costumes             Mel Page
Light                     Roland Edrich
Chorus Director  Stellario Fagone
On Tuesday, 26.nov I attended the third performance of Die tote Stadt at Bayerische Staatsoper Munich. This run had its premiere on November 18. There was considerable hype and buzz about it because of the role debut of Jonas Kaufmann as Paul. Never ever have I seen so many people outside the National Theater asking for a ticket.  And inside it was different too. You could hear many foreign languages and it seemed that people from all over the world had come to see this.
The Dead City (or perhaps more appropriately City of Death) in the title of the opera is of course Bruges in Belgium. This drab city with grey buildings, black canals, beguines (mysterious nuns) and a lot of fog is supposed to be the backdrop and symbol for the psychological drama of death, loss and hope. The opera is loosely based on the novel Bruges-la-Morte by Rodenbach and was written by the child prodigy composer Erich Wolfgang Korngold in 1920 then 22 years old. According to Korngold the dead city of Bruges is one of the protagonists of his opera, therefore the title.
For the Kaufmann debut the Munich Opera originally planned a new staging but due to problems they had to import Simon Stone's 2016 staging from Basel which he recreated and rehearsed himself in Munich.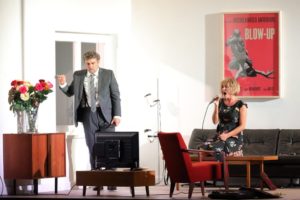 Die Tote Stadt staged without the city
There is no sign of Bruges in this staging at all. It plays entirely in a house and rooms from the 1950s – dull furniture and walls in very light pastel colors. Only the poster of Antonioni's movie Blow-up on the wall tells us that we could expect some psychological drama. The set designed by Ralph Myers cleverly breaks up into individual pieces when Paul leaves reality and has his dreamlike visions. The costumes by Mel Page are all 1950s style. I would have liked an even more colorful dress for Marietta. Paul's coat and hat are appropriately dull. The lighting designed by Roland Edrich is always full light and never mysterious. The lights flash violently when shifting from reality to imagined vision. This is quite unnecessary. It reminds of a cheap horror movie when the ghosts appear.
Simon Stone's directing is detailed and faithful to the story. The psychodrama is developed by him in detail and played very emotionally. During Paul's visions zombie-like doubles of Marie appear everywhere. There is no lute which plays an important part in the text. The painting of Marie is replaced by thousands of small photos. I rather liked the blond wig which substituted the original lock of hair. The religious procession is replaced by children and doubles of Marietta and Paul. This does not fit at all with the text Paul is singing about it.
The director keeps the action flowing and makes it thrilling to the very end. But I very much missed Bruges.
TWO star singers
Korngold wrote a very demanding tenor part for Paul. And Jonas Kaufmann copes with it splendidly, considering he has to sing almost all the time in the three acts. His singing of "Glück, das mir verblieb" in the duet and in the repeat at the end is beautiful and very touching. In some of the dramatic passages I wished he would vary his volume a bit more to make it sound more interesting. His acting was very good too. But he appears to be much too healthy for the role of the traumatized Paul.
Marlis Petersen again proves what great actress-singer she is. Her Marietta is perfect and totally believable. She jumps and leaps and sings at the same time. She makes this difficult part sound very easy. Her singing of "Glück, das mir verblieb" is extremely beautiful and very touching. What an exceptional performance!
Andrzej Filonczyk as Frank/Fritz does everything right. He sings his showpiece Pierrot's song "Mein Sehnen, mein Wähnen" with great feeling and beauty. But I have to admit that each time I hear this song I am reminded of Hermann Prey.
Jennifer Johnston has the warm voice needed for Brigitta. She also has a few opportunities to show that she has a big voice too.
The members of Marietta's troupe and the count are sung and acted enthusiastically by Mirjam Mesak, Corinna Scheurle, Manuel Günther and Dean Power.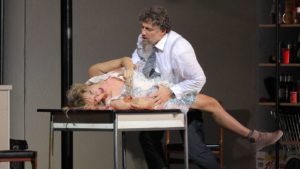 Petrenko – the real star of the evening
The Bayerisches Staatsorchester under the baton of Kirill Petrenko plays gorgeously. The huge orchestral outbursts are extraordinary: for example the introduction to act two. Petrenko also achieves a very romantic sound for the quieter lyric passages. Rightly Petrenko received the biggest ovations by the audience at the end. And now I understand fully why the Berlin Philharmonic chose him as their chief conductor.
I very much missed Bruges, the City of Death in this staging. But it was very well directed and extremely well sung and acted. This was a very memorable performance.
(Visited 1453 times, 1 visits today)