Home

Controversial Opera Staging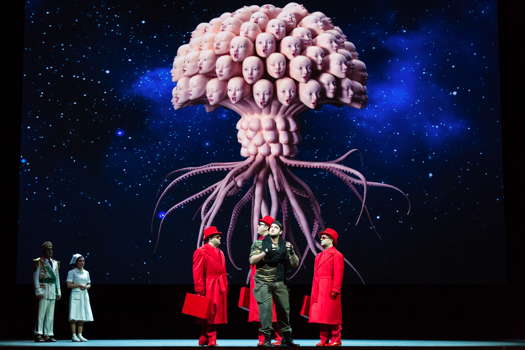 Controversial Opera Staging
CONTROVERSIAL OPERA STAGING
More and more opera enthusiasts are complaining vehemently about "modern" opera staging.
Opera directors transport the action to different places and times, and rewrite the story.
They also use very explicit visuals including violence and nudity.
But if you think controversial opera performances are something new and in our time only – then look at this.
The premiere of Wagner's Tannhäuser in Paris 1861 was a debacle.
In 2019 Tobias Kratzer's Tannhäuser Bayreuth 2019 was a clown in a travelling troupe (with dwarf).
In Munich 2017 (Romeo Castelucci) there were so many naked breasts that YouTube even censored the trailer by Bayerische Staatsoper
Bizet's Carmen was received very negatively at the premiere in Paris 1875.
But what did modern directors do to this very straightforward story?
In 2018 in Florence Leo Muscato rewrote the ending of the opera: Carmen shoots Don José. The audience did not like it all and booed.
In Paris and Rouen 2019 Carmen was moved to a circus where she is a circus artist.
But the price goes to Dmitri Tcherniakov Aix 2017 who moved Carmen to a psychiatric clinic where Don Jose receives treatment by reenacting the Carmen story as a play. This staging was actually lauded by critics.
Richard Strauss' Salome was scandalous when premiered (1905).No wonder with the kissing of the head!
A lot has been said about nudity in the Dance of the Seven Veils, pioneered by Maria Ewing (London), Karita Mattila (Met) and many who followed. Surprisingly directors did not rape Salome much. I guess the story is shocking enough.
The modernized performances were mostly true to the plot. Here is a trailer for the Nikolaus Lehnhoff staging from Baden-Baden 2011
By now you will have realized that perception and appreciation of opera performance can change with time. Maybe in 50 years some of todays controversial stagings will be liked too !?
One of the best examples how opinion can change is the Bayreuth Boulez/Chereau Der Ring des Nibelungen.
The premiere in 1976 was a huge scandal. But today this Ring is considered a classic and a legend!
It was followed by many very controversial Ring stagings all over the world.
The Valencia Ring staged by La Fura dels Baus 2008
The Stuttgart Ring 2000 by four different directors
But the first price goes to Frank Castorf notorious Ring in Bayreuth 2016
setting Rheingold in the 'Golden Motel' on Route 66 in Texas!
I am always surprised how directors can invent these crazy ideas and
get them staged too.
What about La Boheme on a space station? How can somebody imagine this?
Claus Guth did just that in Paris 2017
I am sure you have never seen a "Vissi d'arte" like this.
Tosca staged by Martin Kušej at the Theater an der Wien 2022
And what about a psychedelic Turandot with computer generated graphis?
This staging by Fabio Cherstich was so "successful" in 2020 that it moved from Palermo to Bologna and Kassel
Norma staged by Christophe Coppens at La Monnaie, Brussels  2021
is an apocalyptic night mare with cars crashing and burning.
If you think Operetta might be immune to director's assault – WRONG!
The Fledermaus in Salzburg 2001 staged by Hans Neuenfels was a veritable scandal.
Quote
Comment by RKM
This is the worst recorded production of anything ever
Orlofsky is straight out of Beetlejuice, but also grunts, spasms and snorts cocaine. The action stops for long, highly dramatic recitations about corpses and rape, plus one composed entirely of nonsense syllables. There is simulated sex and incest, including women licking and riding a 3-foot-long model of an anteater's snout. Most of the women wear only underwear at the party, and main characters are made to don cloth cylinders about 4 feet in diameter. The absolute worst, except for the singing and musicianship. Honest, though — the DVD captures many boos at intermission.
One spectator even sued the festival to get his money back (he lost).
It seems that some directors are repeat offenders. Virtually all their stagings are offensive, and controversial to say the least.
But still they are hired over and over again by various opera houses!
One of the most infamous is Calixto Bieito. Most of his staging have very shocking elements (mostly out of context)
His Parsifal from Stuttgart 2018 is legend.
The previously mentioned Romeo Castellucci is in the same class
His Parsifal Brussels 2011 premieres the most shocking nudity in opera ever!
Personally I am not in principle against updating and modernizing opera staging,
but it has to be done with care and observing the intentions of the composer/librettist and the spirit of the work.
I have seen such stagings and enjoyed them.
Here just one example:
Rienzi Deutsche Oper Berlin 2010 staged by Philipp Stölzl
This could be subject of a different blog: "Enjoyable modern opera staging"
(Visited 11,286 times, 12 visits today)