Home

Concerto di Capodanno Catania 2022
Concerto di Capodanno Catania 2022

To open the sequence of songs will be the genius loci Vincenzo Bellini, with the Symphony of "Norma". To stay in Italian melodrama, we have Gioachino Rossini with the Symphonies from "Guglielmo Tell" and "Il barbiere di Siviglia"; Gaetano Donizetti with two numbers from "Don Pasquale", or the Symphony and the choir "Che interminabile andirivieni". […]

&nbsp&nbsp&nbsp&nbsp&nbsp&nbsp&nbsp&nbsp&nbsp&nbsp&nbsp&nbsp&nbsp&nbsp&nbsp&nbsp&nbsp&nbsp&nbsp&nbsp Info about this performance Read or write comments
Concerto di Capodanno Catania 2022
Information on the Performance
Information about the Recording
Date Published: 2022&nbsp&nbsp
Format: Broadcast
Quality Video: 4 Audio:4
Subtitles: nosubs&nbsp&nbsp
This Recording is NOT AVAILABLE from a proper commercial or public source
&nbsp
ADDITIONAL INFORMATION ON THIS PERFORMANCE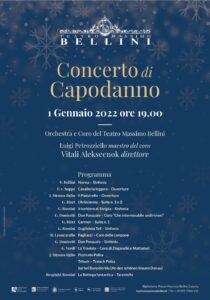 To open the sequence of songs will be the genius loci Vincenzo Bellini, with the Symphony of "Norma". To stay in Italian melodrama, we have Gioachino Rossini with the Symphonies from "Guglielmo Tell" and "Il barbiere di Siviglia"; Gaetano Donizetti with two numbers from "Don Pasquale", or the Symphony and the choir "Che interminabile andirivieni". To continue with Verdi and the Chorus of Zingarelle and Mattadori from the "Traviata". And again the Chorus of bells from "Pagliacci" by Leoncavallo and the "Tarantella" by Rossini reworked by Ottorino Respighi for "The fantastic workshop".
In the poster there is also space "the best of" Georges Bizet: in fact, three of the four orchestral suites will be proposed in which the most beautiful themes conceived for the opera "Carmen" but also for the incidental music of the drama by Alphonse Daudet will come together " L'Arlésienne ". Of the two "compilations" taken from the soundtrack composed for the theatrical work, the one marked with n. 1 was actually compiled by Bizet himself, the second was instead edited posthumously by his friend Ernest Guiraud, who also elaborated the couple of suites from "Carmen", of which we will listen to the first.
Unmissable melodies and enthralling rhythms by Johann Strauss son, of which, among other things, the Symphony from the operetta "Il Pipistrello" will be performed. How could the waltz "On the beautiful blue Danube" be missing together with Pizzicato Polka and Tritsch – Tratsch Polka.
An effervescent composition such as Franz von Suppé's "Light Cavalry" is aligned with the Leitmotiv of Austria Felix. And among the surprise encores, to the delight of the public, there is a bet that Johann Strauss father with Radetzky-Marsch will also appear.
(Visited 357 times, 1 visits today)