Home

Alcina Salzburg August 8, 2019 - A Review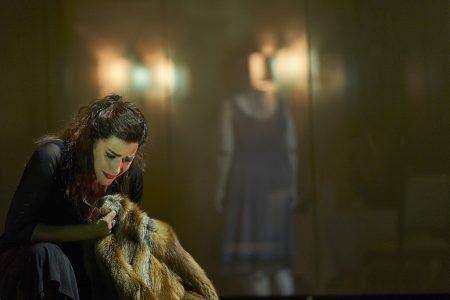 Alcina Salzburg August 8, 2019 – A Review
Alcina: Cecilia Bartoli
Ruggiero: Philippe Jaroussky
Morgana: Sandrine Piau
Bradamante: Kristina Hammarström
Oronte: Christoph Strehl
Melisso: Alastair Miles
Obert: Sheen Park (Wiener Sängerknabe)
Bachchor Salzburg
Les Musiciens du Prince-Monaco
Stage Director: Damiano Michieletto
This staging of Handel's Alcina was premiered at the 2019 Salzburg Whitsun Festival with the same singers. It was now re-staged for the Salzburg Summer Festival.
In 1734 Handel was in trouble. He could not fill his opera house any more. So, he urgently needed a success to attract the fickle London public. He resorted to the success recipe of sorcery, ballet and stage tricks. Alcina became a huge success. Today the taste of the public is different. In the time of Marvel blockbusters a few cheap stage tricks will not do. Instead director Damiano Michieletto stages Alcina as a female psychological drama – much more in line with contemporary taste.
Staging as a psychological drama
He puts the drama of Alcina right in the centre. There is no enchanted island anymore and no lush green landscape. Instead the single set is a rather dull hotel lobby. Is this a lonely-hearts hotel? Alcina is the hotel manager assisted by her sister Morgana and the porter Oronte. The back of the stage is a large semi-transparent screen which also serves as a mirror. Behind the screen we can see the men transformed by Alcina's spell. They crawl around zombie-like in underwear most of the opera. Fantastic images are projected onto this screen from time to time. This creates an impression of uncertainty. What do we see? What is reality? What is imagined? But this never changing scenery by Paolo Fantin gets tedious during the 4.5 hours performance (including intervals).


The costumes by Agostino Cavalca are contemporary and dull. The lightning by Alessandro Carletti is mostly static and does little to illuminate the story.
Alcina is confronted with her younger and older self several times to help her reflect on the change of time and her own vulnerability. All other characters rotate around the drama of Alcina with the single purpose of bringing her downfall.
A great ensemble with two stars
If the staging does not overwhelm the music and the singers definitely do. This performance is a feast for opera lovers. The entire ensemble is excellent with two outstanding artists.
I have followed Cecilia Bartoli's development for over thirty years: from the first Cherubino, via Mozart and Rossini to Bellini and Handel I have seen her in all her roles. Now in her fifties she is reaching new heights in her art. Her Alcina is truly exceptional. She uses all shades of her wonderful voice – from pianissimo to fortissimo – to illustrate the character and to create great emotions. She is Alcina. Her pianissimo endings of two arias are extremely touching and beautiful. And her coloraturas are a technical feast of course. If you are taking her engagement in projects and her management ability into account too, it is fair to say that Cecilia Bartoli is one of the greatest opera singers of our time.
Philippe Jaroussky is one of the greatest counter tenors of today. His Ruggiero is sung splendidly. The technique dazzles and in the lyrical passages his singing is extremely beautiful. He is a great partner for the exceptional Cecilia Bartoli.
Sandrine Piau as Morgana sings beautifully too. In addition, her acting is appropriately sexy. She is an ideal casting for this role.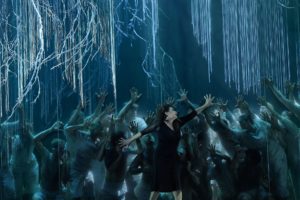 Kristina Hammerström is an experienced Bradamante/Ricciardo. She sang this role already 2010 in the Vienna Alcina performance. Her coloraturas are a wonder to marvel.
Christoph Strehl as Oronte is an expert baroque singer. He is very good in this somewhat unlikable role. Maybe he could improve his coloratura a bit. The stalwart bass Alistair Miles is an appropriate choice for Melisso.
The young Vienna Choir boy Sheen Park sings his arias very nicely and got a lot of deserved applause for it. I wonder what will become of him when he grows up.
Les Musiciens du Prince-Monaco was founded only a few years ago on the initiative of Cecilia Bartoli. She is still the artistic director of the orchestra. And you can feel her influence. The orchestra gives a lot of space to the singers and breathes with the singers. It underlines the emotions of the arias very well. The solo instruments play beautifully.
This was an exceptional evening which will always stay in my memory as one of the highlights of my over sixty years with opera. The performance was musically of a very high standard with a superb ensemble of singers. It was crowned by the presence of two truly outstanding artists: Philippe Jaroussky and Cecilia Bartoli.
(Visited 1,272 times, 1 visits today)