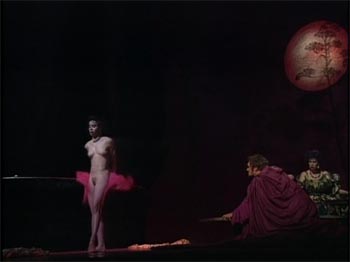 Nudity in Opera
In my youth when I started going to the opera (1950s) topless girls were taboo in newspapers, magazines and even movies. Nudity in opera was quite unthinkable. But things changed very quickly in the 1960s and 70s. With flower power and women's lib female breasts became quite ubiquitous in all media. It was just a matter of time until opera followed the common trend.
I do not know which opera performance first staged nudes. One of the earliest ones I found is surprisingly from Bayreuth: in Tannhäuser 1978 Gwyneth Jones as Venus shows her breasts under a transparent costume. Barbara Bonney appeared as Pamina in a similar costume in Die Zauberflöte, Geneva 1985. I remember a very upset critic who called it a scandal that a leading soprano reveals her breasts.
My first confrontation with nudity in the opera house was in Paris 1979 in Die Frau ohne Schatten. And it was not female but male nudity when Die Färberin is presented with a naked young man as a gift.
What do I think about nudity in the opera house? Well, I am not a prude so I think it depends. There are operas where nudity fits naturally with the plot and characters. Examples of this are the Dance of the Seven Veils in Salome, the Venusberg in Tannhäuser or the Bacchanale in Samson et Dalila. In Lulu sex is such a predominant part of the story that nudity fits well in. Cleopatra in Giulio Cesare is quite a sexy beast too. And the list could go on ….
Nudity can be a pleasing experience in the theater if is staged with care and good taste
On the other hand if the director employs nudity out of character and plot. Or even presents nudity in order to shock or to create attention – then I am rather against it. Could you imagine Suor Angelica or Dialogues des Carmelites with nudes?
Speaking of Salome – Maria Ewing did the full strip in her London 1992 performance and Karita Mattila did the same at the Met 2004. There are so many Salome recordings with a nude Dance of the Seven Veils – because it makes sense!

In Vivaldi's Ercole su'l Termodonte Spoleto 2007 the hero Hercules is nude except for the skin of the lion he has slain. This is quite a challenge for the tenor (and the other singers), but it makes sense and fits into the overall context.
This Venusberg Scene in Tannhäuser Munich 2017 is a little bit harder to understand.

I find it quite unnecessary to present the Marschallin naked in bath at the beginning of Der Rosenkavalier as in Glyndebourne 2014.
There have been some very shocking or inappropriate stagings in recent years.
Why are there nude people in Turandot, Turin 2018 ?
Brussels went to the extreme with Parsifal 2011 almost being pornographic.
Calixto Beito is infamous for often applying nudity out of context. Have a look at his Entführung – what do you think.
In recent years opera stagings with nudity have been numerous. It is not my objective to provide a lengthy or complete listing of all these recordings.
I am sure nudity will continue to be used in opera staging.
But please do it with taste and where it is in line with the story and characters….
(Visited 15503 times, 37 visits today)